ES3 business processes and operations span multiple disciplines and consider the entire life cycle of the products and services we provide. We base all our quality operations on the International Standard ISO 9001:2015 and the Aerospace Standard AS9100D – the two most recognized standards for superior quality performance. ES3' various facilities hold a variety of certifications. Several of our certifications are available for download:
The ES3 Quality Management System consists of interrelated processes organized into a Plan-Do-Check-Act loop. For each product or service, ES3 defines a quality control plan with specific metrics to ensure that product conformance, performance, reliability, and other key requirements are met. Quality metrics are clear and quantifiable. Monitoring quality metrics ensures ES3 end products and services meet key quality and performance objectives. The overall effectiveness of the ES3 Quality System is determined by measuring Customer Satisfaction.
ES3 spares no expense in our pursuit of quality excellence. For example, we utilize a Zeiss Contura full contact scanning Coordinate Measuring Machine (CMM) with Calypso and Curve operating software. This allows us to be hyper precise in our measurements, taking thousands of points of information per feature to critically evaluate and ensure parts conform to exacting standards.
At ES3, we enjoy challenging projects, products, and services. We take pride in making on-time deliveries that meet specifications. We understand that our continued success depends on our ability to meet or exceed the expectations of our many customers.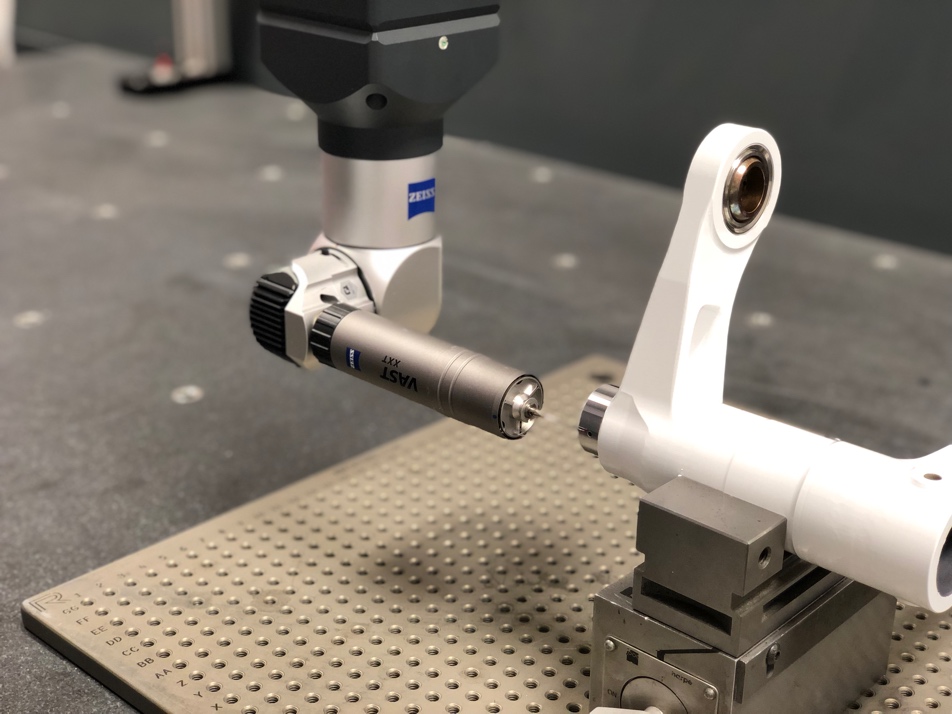 A critical landing gear component is being measured at ES3 to ensure compliance with fabrication requirements.
Advancing Aerospace Technologies for More Than 20 Years