The Greenhouse Gas (GHG) Protocol categorizes a company's GHG emissions as one of three "Scopes". Scope 1 is classified as direct emissions from owned or controlled sources (i.e. stationary combustion, mobile combustion, process emissions). Scope 2 emissions are classified as indirect emissions (i.e. purchased energy). Scope 3 emissions are all remaining indirect emissions not included in Scope 2 (i.e. business travel, distribution, shipping and logistics). 
GHG emissions are commonly reported in metric tons (MT) of carbon dioxide equivalent (CO2E). CO2E is a way to quantify and combine various greenhouse gasses, such as CO2, NH4, and N2O, into a singular unit.
Reporting for Calendar Year (CY) 2022
ES3's GHG emissions are broken down by scope and reported as follows: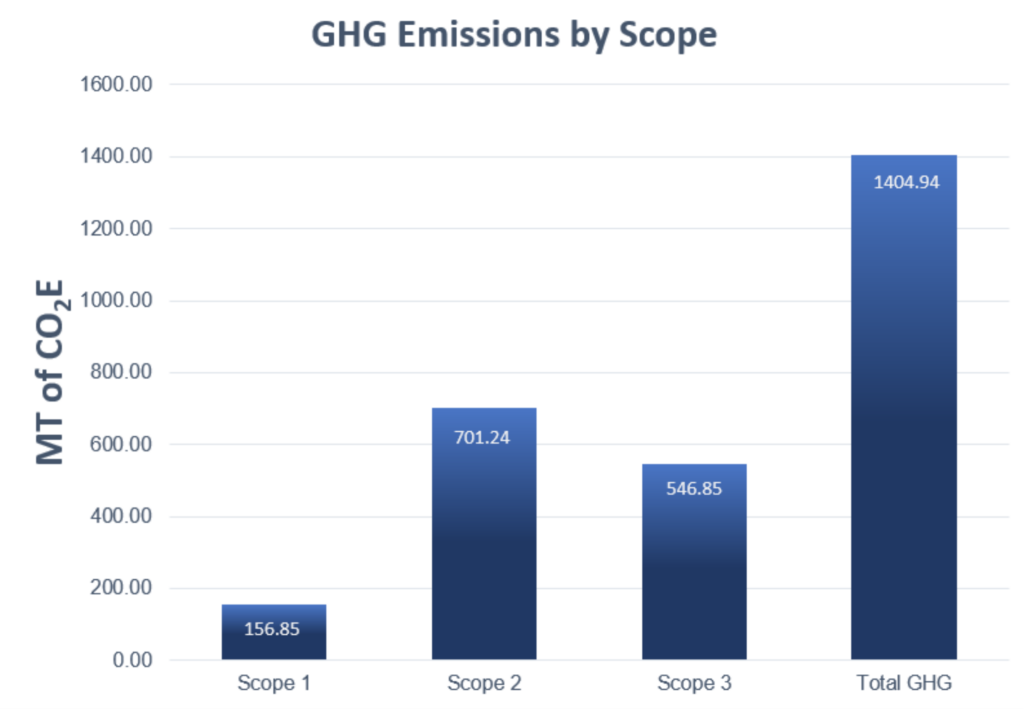 Scope 1 GHG emissions represent the smallest contributor to ES3's carbon footprint and come from process emissions, combustion of gasses on site (heating), and the combustion of gasses from ES3 owned and operated vehicles. Natural Gas is used as the main heating source for ES3 buildings. During CY20, ES3 enhanced the air distribution systems in our two manufacturing facilities by installing modern air ducting and filtration systems.  The modern ducting evens the heat distribution across the facility, improving the efficiency of our heating systems which continues to reduce our on-site Scope 1 GHG emissions for our two production facilities.  ES3 company vehicles are used for transportation to off-site work locations as well as pickup of supplies and delivery of work products. Since 2020, ES3 has opted to purchase electric vehicles when possible and implemented more efficient logistical planning.  Both initiatives have provided us with Scope 1 GHG reductions in 2022.  ES3's GHG emissions from company owned vehicles are well below the estimated US average of 4.6 MT CO2E per vehicle.
Scope 2 emissions are ES3's primary GHG contributor and consist primarily of purchased electricity used for lighting, equipment power, and air conditioning.  Scope 2 emissions are highly variable from year to year and depend on factors such as company workload and weather conditions.
Scope 3 emissions for ES3 are primarily due to business travel and shipping. During the pandemic of 2020 and 2021, there was a decrease in business travel due to COVID-19 restrictions. The use of online video conferencing continues to substitute for business travel when possible.
ES3 will continue to maintain environmentally conscious work practices at all facilities located across the US. ES3 continues to maintain an Environmental Management System (EMS) certification (ISO 14001:2015). With this certification, ES3 tracks and monitors various environmental metrics, including energy use and air emissions. The data obtained from the EMS is used to help increase environmental awareness to employees, help ES3 understand its environmental impact, ensure ES3 is meeting all local, state, and federal regulations, and help ES3 set realistic and attainable goals for reduction of GHG emissions. 
ES3 reports a total GHG emission of 1404.94 metric tons of CO2E for CY2022. With employees located at five facilities across four US states, that equates to 7.68 metric tons of CO2E per employee. That results in 7.7% reduction per employee compared to CY2021.
ES3 strives to set realistic and attainable goals for reduction of GHG emissions. For calendar year 2023, ES3 has set the following goals:
a. Reduce Scope 2 emissions by 5%, normalized per ES3 staff member
b. Reduce CO2E emissions per staff by 1%
ES3 plans to achieve these goals by enacting the following:
Scope 1 Reduction Solutions:
Continue to enhance air distribution of facilities
Ensure insulation is installed and secured in all areas of our buildings
Drive electric vehicles as our primary transportation method when possible
Maintain vehicles and machines to operate at maximum efficiency
Reduce travel to a minimum and practice efficient delivery logistics
Practice group technology to utilize machine efficiency during manufacturing processes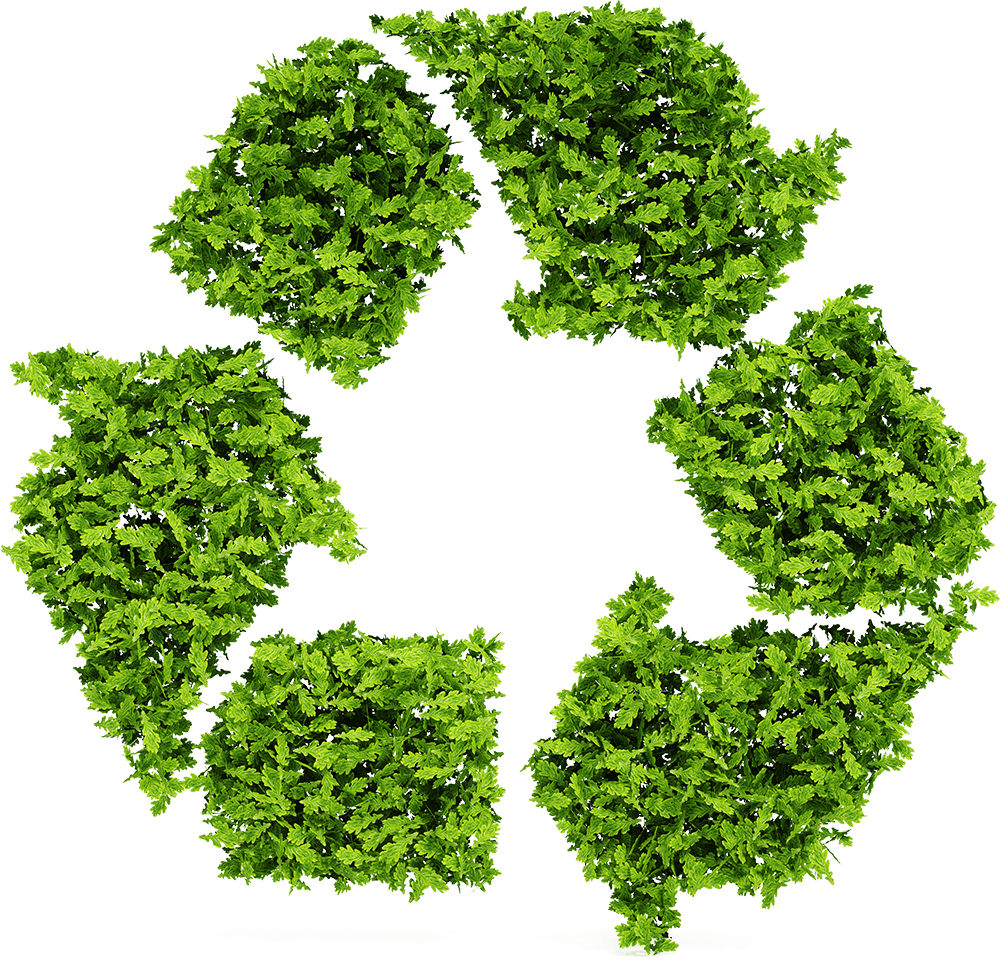 Scope 2 Reduction Solutions:
Replace old doors in manufacturing facilities
Replace old windows with energy efficient windows
Install high efficiency water heaters 
Expand usage of timers/motion detectors for lighting
Raise staff awareness of environmental impact and GHG emissions
Practice group technology to utilize machine efficiency during manufacturing processes
Scope 3 Reduction Solutions:
Continue to replace business travel with video conferencing if possible. 
Be mindful of shipping practices and workout efficient shipping logistics when sending multiple products to customers
Expand the work we do with companies that have 'green' initiatives
Committed to Continuous Improvement
ES3 is pleased to report that our GHG emissions have a consistent year-over-year reduction.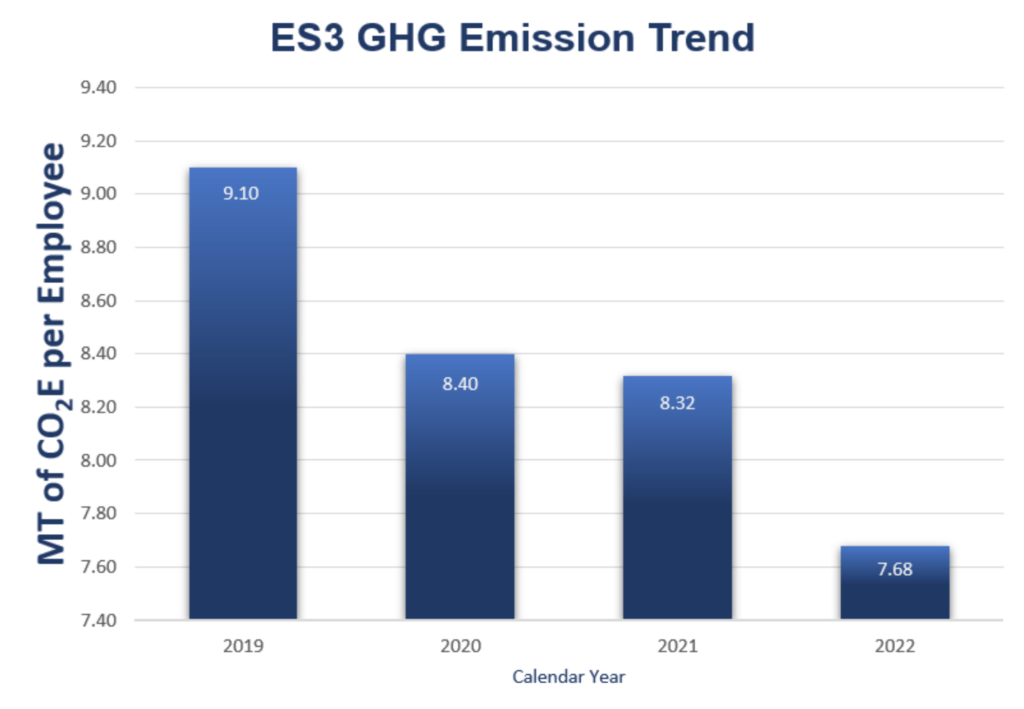 ES3 continues to maintain environmentally conscious work practices that include paper, metal, and plastic recycling. And we are working to reduce our purchase of items that are packaged with single use plastics.
Offsetting our Carbon Footprint
At this time, ES3 does not purchase carbon credits through the voluntary compliance markets. Instead, ES3 has chosen to mitigate our carbon footprint by making contributions to institutions researching energy advancement and climate science.
Advancing Aerospace Technologies for More Than 20 Years